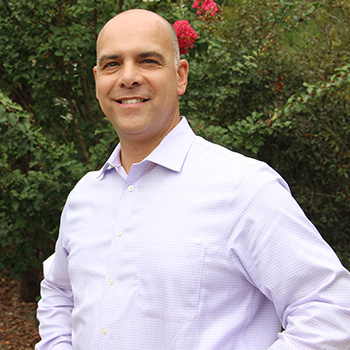 Meet Dr. Steve Palazzo
Developing a Passion for Natural Care
With a love of sports, Dr. Palazzo became interested in body mechanics early on in life. He considered physical therapy or chiropractic for a future career path. "I liked that chiropractic looked at the whole body. It's a conservative, hands-on approach that involved giving people individualized care. Chiropractic was the perfect solution for helping musculoskeletal issues without using medicine or surgery."
First, Dr. Palazzo attended SUNY Stony Brook, then moved on to the University of Bridgeport College of Chiropractic to earn a Doctor of Chiropractic. His studies led him to develop an integrative model of health care that he considers his biggest accomplishment. He has researched manual and soft tissue rehabilitation techniques used all over the world, which led to the creation of his practice model.
Creating an Integrative Model of Health
At Integrative Chiropractic, we offer chiropractic, massage therapy, physiotherapy, therapeutic exercises, nutrition, cold laser, posture training and more to create the best possible treatment plan for each patient. "We want to minimize pain, maximize function and prevent the problem from coming back so that you can live an active, healthy lifestyle."
To share his knowledge with others, Dr. Palazzo has taught many postgraduate courses and attends regular continuing education to stay up to date. He was an instructor at his alma mater for several years, teaching advanced adjusting procedures and chiropractic management there, and has sat on state panels to develop guidelines for chiropractic treatment.
Staying Involved and Active
Dr. Palazzo is the first-ever chiropractor to be a member of the University of North Carolina Physicians Network and is a chiropractic at the UNC clinic at Cisco in the Research Triangle Park. As of 2019, he is also a member of the American Academy of Spine Physicians.
His additional memberships include:
When he isn't with patients, Dr. Palazzo can usually be found spending time with family, including his gorgeous wife and three awesome kids. His various hobbies include participating in sports and playing the guitar.
Contact our Morrisville office today to learn more or to schedule your appointment!

Chiropractor Morrisville, Cary | (919) 468-5622